Energy Savings
Air Quality
Scheduling
Smart Home Enabled
Compatibility
Seamless Experience
Reimagine your home
with the clearly smart thermostat.
Video
Elegant design for a smart home.
play
Adapts to your schedule.
Designed with arrival anticipation and occupancy detection, GLAS® intuitively monitors your schedule so when you're home, you're comfortable. GLAS isn't just elegant. It's always working.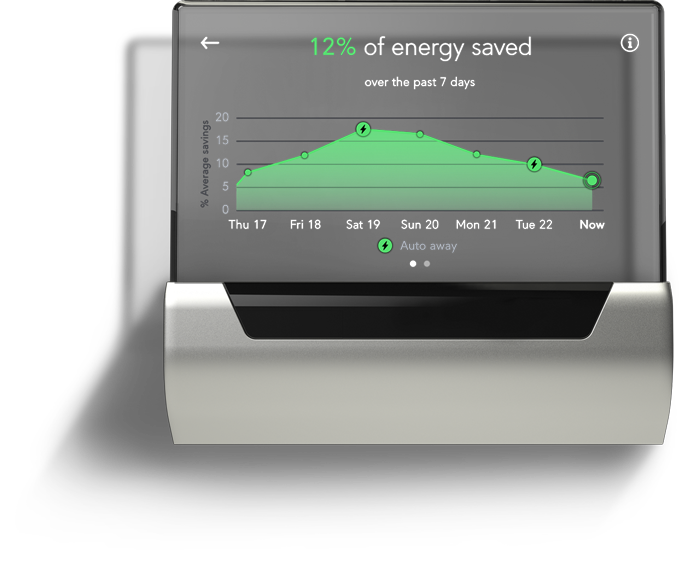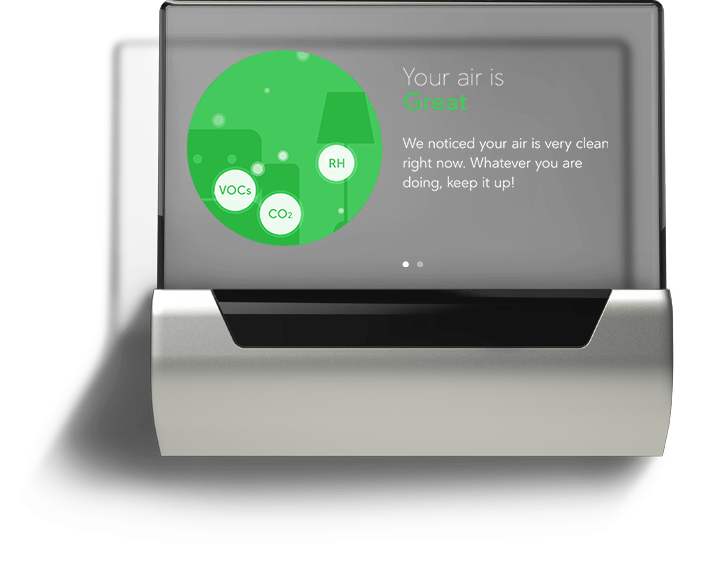 Breathe clean air.
The GLAS smart thermostat monitors and reports indoor and outdoor air quality so you can manage and be aware of the air you breathe. Indoors, GLAS provides real-time reporting on relative humidity, total volatile organic compounds (tVOCs), and equivalent carbon dioxide (eCO₂) levels. Outdoors, GLAS provides real-time air quality reporting on allergens (tree pollen, grass pollen, ragweed pollen, and mold), UV index, and the air quality index (AQI), which includes ozone levels. Plus, you can schedule reminders to change your system's filter and for maintenance visits. Just a few less things to keep track of.
Getting things set up – your way.
GLAS, powered by Windows 10 IoT Core, gets to know you and your home right out of the box. It's easy to set a 7-day temperature schedule on the smart thermostat or from your phone or tablet. Home, Sleep, and Away modes ensure an even more personalized space, while its delightfully easy-to-read display provides clear information. No more squinting at cryptic settings. Most importantly, it knows when you're home and when you're not so it can adjust the temperature – and your comfort – accordingly.
Control your smart home devices with Cortana® intelligent assistant.
Your GLAS powered smart home can now respond to the sound of your voice. With a simple command, Cortana can adjust the temperature, dim the lights, and more.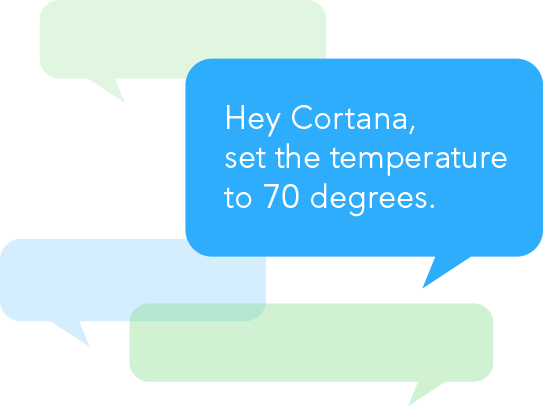 GLAS works with most 24-volt heating and cooling systems, including: gas, electric, oil, radiant, and forced air. Just remove the faceplate from your current thermostat and confirm you have some of the following labeled wires:
Power (C, RH, RC)
Conventional (2H/2C), (W1, W2, Y1, Y2)
Heat Pump (O/B)
Fan (G)
Humidifier, Dehumidifier, Ventilator, HRV, ERV (AUX)
Check if your system is compatible
Delightful interactions. Beautiful across any device.
With the GLAS app, it's easy to control the temperature in your home from your smart phone or tablet.

Simple interactions with the same intuitive interface across all devices.

Tweak the temp without touching the thermostat.

Keep up with your energy savings through real-time energy reports.

Compatible with Android (4.4 or later) and iOS (10 or later) mobile devices.